Regulator service
One of our specializations is servicing scuba regulators. We have been doing this from the moment we opened the store and therefore have almost 20 years of experience in this. Our workshop [Link] also has all the necessary tools. Every brand and model regulator is different and will also have to be serviced differently in order to function properly. For Scuba Support this is specialization for which we have also been extensively trained and certified by a series of manufacturers [link to About Us]. Our service process is described in detail in this article.

We service regulator sets from Mares, Scubapro, Halcyon, Apeks, Ocean Reef, Tecline, Scubatec, Cressi, Tusa and Subgear, Tecline and many other brands. Contact us [link] to discuss the options for maintaining your regulators.
What happens to your regulator set during a service?
Receiving
When we receive the regulator, we discuss what work needs to be done and whether any problems are already known. If old service reports are available, we would like to receive them.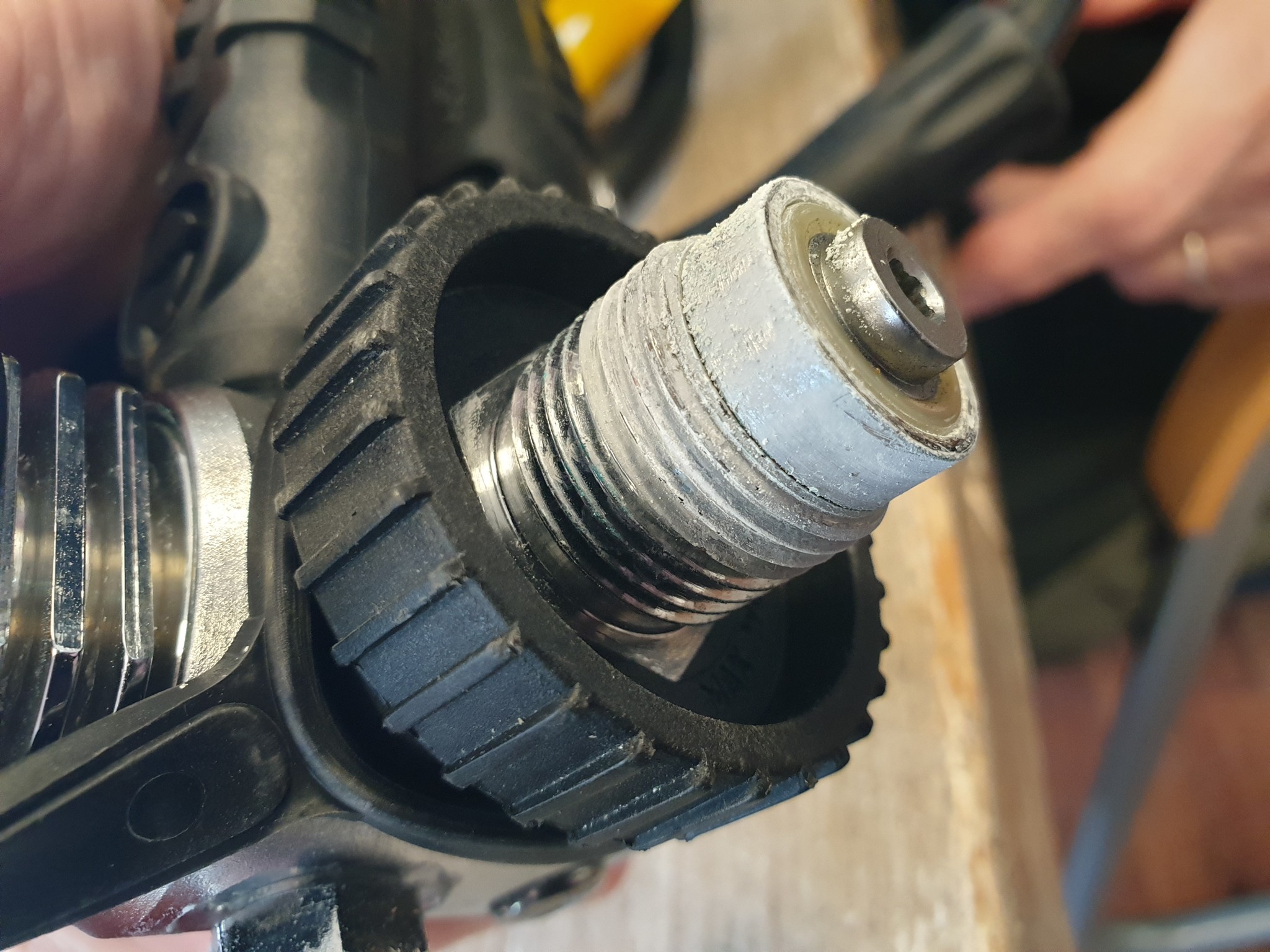 Inspection
The regulator set is inspected in our workshop and, if necessary, photos are taken to make sure that after the service the hoses are put back in the right place, because this sometimes differs from diver to diver.
Disassembly
Now all hoses are removed from the first and second stages. The hoses are stripped of all o-rings and the Schrader valve is removed from the inflator hoses. The hoses are checked for drying out and damages. Then the first stage is disassembled and all parts sorted. The same also happens with the second stage, backup / octopus and the pressure gauge or console. All parts are checked for damage or indications of a possible defect. Extra attention is paid to mouthpieces, which sometimes show cracks that you only see when you stretch the material slightly. They will of course be replaced if damaged.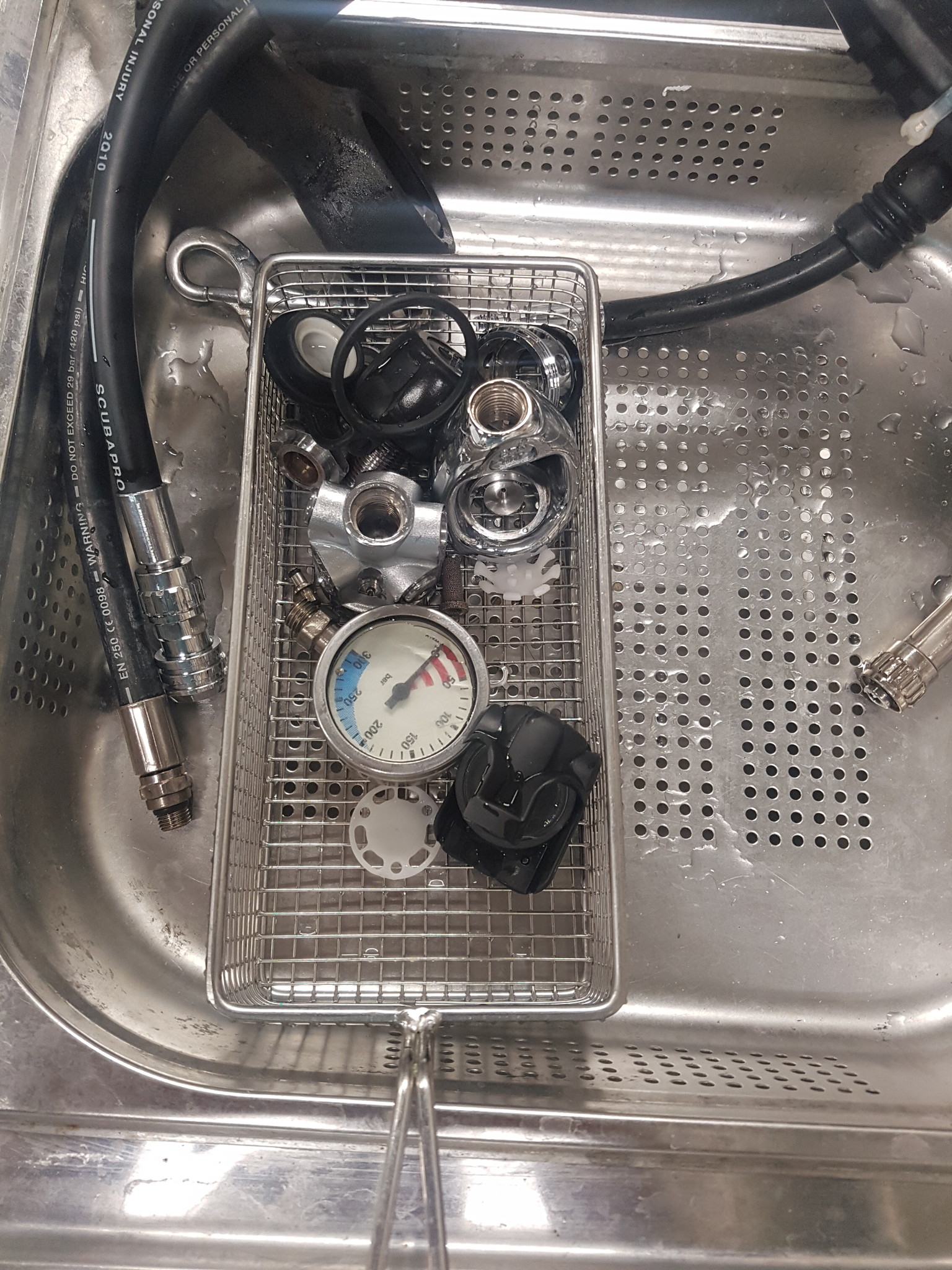 Cleaning
The first cleaning is done by hand; the parts are cleaned and grease removed by means of a cloth, brush and Scotch brite. We can clean heavily contaminated parts in a very powerful ultrasonic bath filled with a strong cleaning agent. The advantage of the ultrasonic bath is that cleaning also takes place in places where you cannot reach with a cloth or brush, for example the small channels in a first stage. Using chemicals such as Blue Gold dissolves hydrocarbons.
Rinse and dry
Rinsing with water is important, because the previously used cleaning agents are often aggressive, acid or basic, but the rinsing also rinses away the loosened dirt. Then all parts are blown dry with clean, oil-free compressed air and placed in sequence in preparation for assembly. In this part of the process, every part is carefully checked again.


The right service kits
Almost every machine is different, so different parts and materials are required for every make, model, type and even application. For example, if you are going to use your regulator set for decompression with Nitrox 50, it must be provided with Viton or EPDM o-rings instead of Nitrile (also known as NBR) o-rings. This is because Nitrile O-rings are not suitable for use with oxygen percentages higher than 40% and can even lead to explosions.
A "normal" O-ring also has many variables, such as the diameter, cord thickness, hardness (Shore) and the material from which it is made. So if you have an O-ring that looks the same, it does not mean that it can be used. For example, an O-ring that is too soft in the high-pressure part of the first stage can lead to unsafe situations.
So using the correct service parts is essential. All brands have therefore put together their own service kits for their certified service technicians to prevent the wrong o-rings, seats or diaphragms from being used. At Scuba Support we only use original service kits that are certain to be suitable for the application.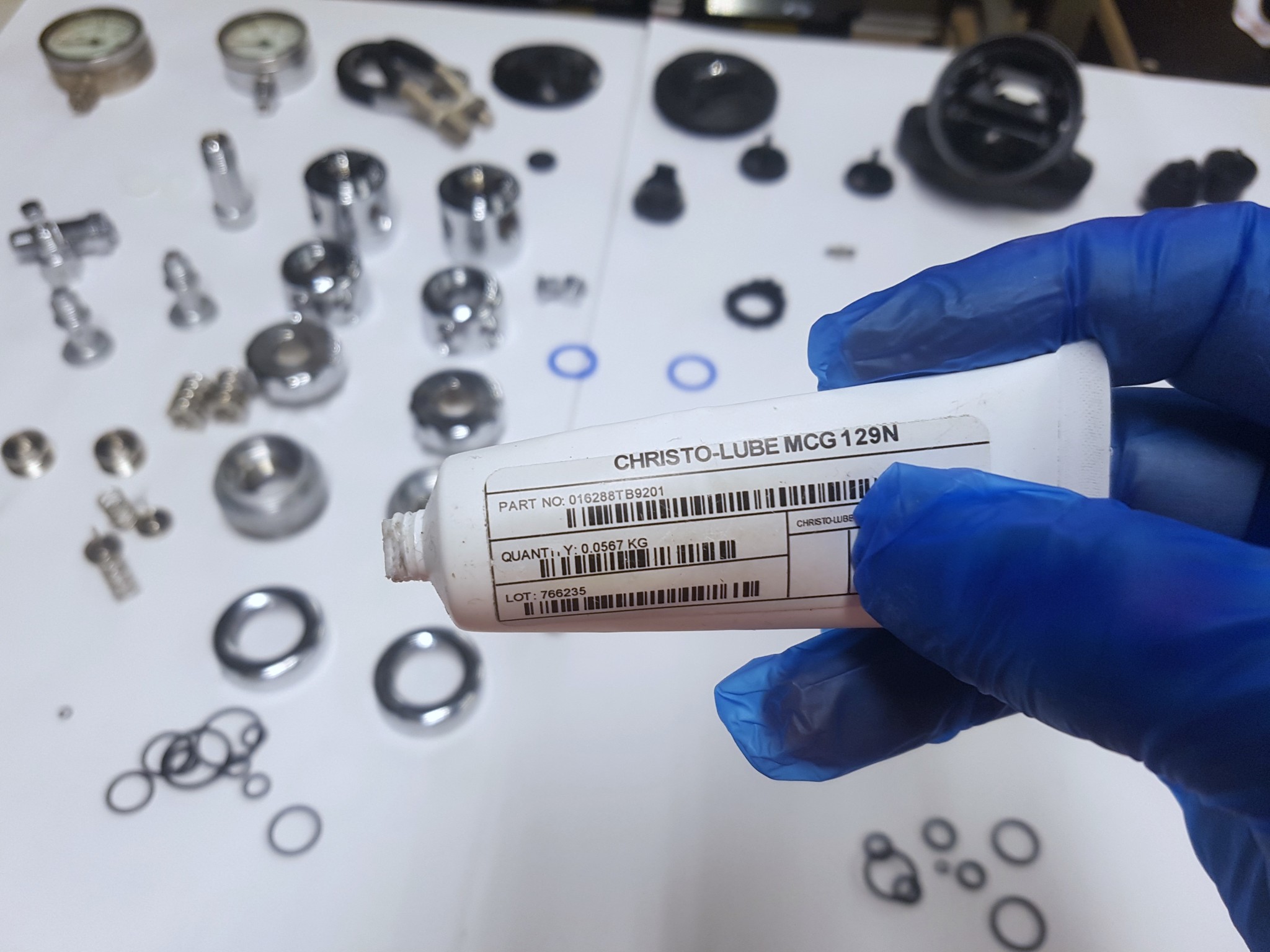 The right lubricants
It is also important to use the right lubricants for every application, because every grease has positive and negative properties. For example, the use of silicone grease in an oxygen regulator set is very dangerous and can result in fire or explosions. At Scuba Support we use Christolube as a lubricant for oxygen-rich applications. Some lubricants become gritty over time or soften (soften) the o-rings, so avoid them.
Reassembly:
When everything is clean and checked, we will assemble all parts with the official service kits. Usually starting with the first stage, all parts are greased and assembled as needed. Important parts are replaced in accordance with the manufacturer's guidelines. Think of filters, seats and the most important O-rings. Assembly is done according to the guidelines of that particular make / model.
When the first stage is mounted, the 2nd stage, the octopus and the console are mounted using the appropriate drawings. The hoses are also fitted with new and greased O-rings and the inflator hoses with a new valve.
The hoses are connected to the first stage and the second stage and the octopus and console are connected.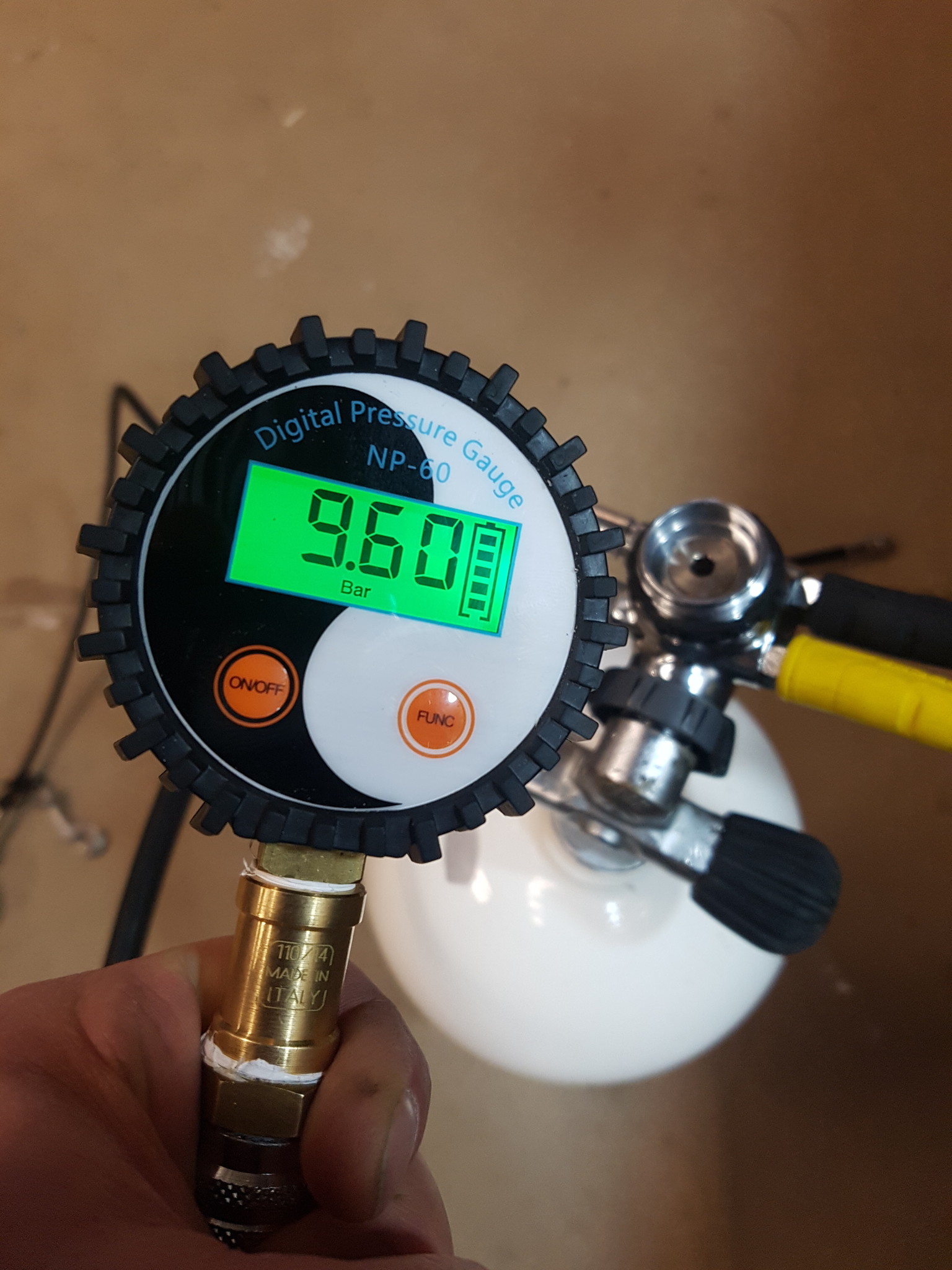 Adjustments and checks:
The first stage is connected to a filled cylinder and we start by adjusting the intermediate pressure of the first stage. The intermediate pressure is usually around 9.5 bar but can differ per brand or type. Here too we use the official guidelines of the manufacturer. If the intermediate pressure is properly adjusted and it has been checked whether it remains stable, we can adjust the second stage and octopus, with the focus on adjusting the crack pressure and breathing resistance.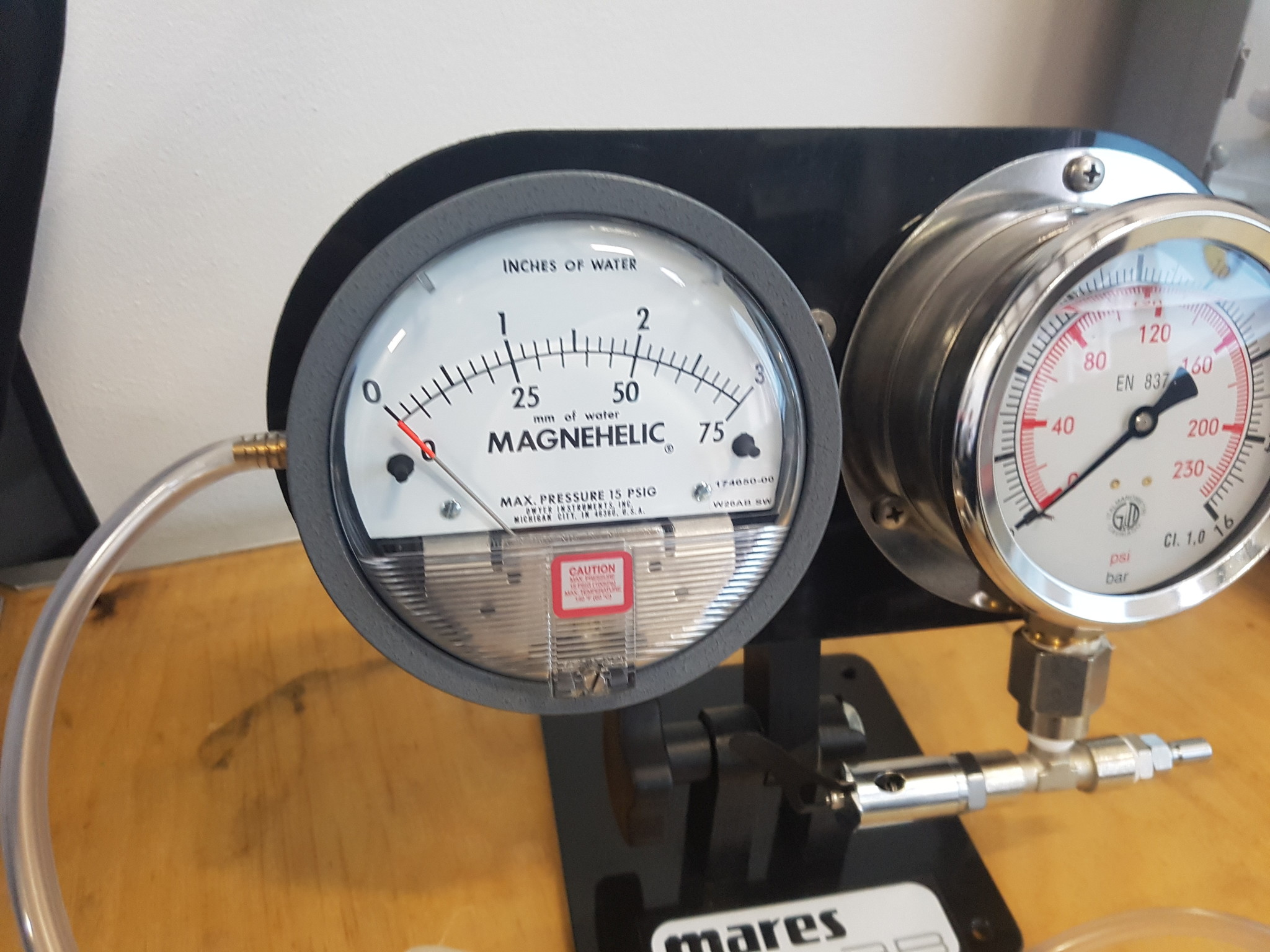 Testing
We test the entire regulator set for stability and consistency of the intermediate pressure with an intermediate pressure gauge. We can check the breathing resistance with a Magnehelic meter, a kind of vacuum / underpressure meter. We also do a vacuum test to test whether a second stage is not sucking in false air. Finally, the regulator set is submerged under pressure to check that there are no leaks.
After drying, the vending machine set is ready for collection. On the receipt we state exactly what has been carried out, including serial numbers. We also supply all replaced parts in a bag.
Maintenance just before going on holiday
Because we replace many moving parts during maintenance, such as seats, it is recommended to do a number of dives with the regulator afterwards before you travel again. Seats sometimes need to interact a bit to seal properly. Although we take this into account when adjusting, the regulator sometimes has to be adjusted after a number of dives. This does not happen often, but it can be annoying if you have just gone on holiday and there is little or no knowledge available to do so on site. That is why we advise to have dived at least two or three times after maintenance, if necessary in the pool.