Een eigen duikuitrusting is een behoorlijke investering dus je wilt er het liefst zo lang mogelijk plezier van hebben. Het is daarom belangrijk om goed voor je spullen te zorgen. Maar hoe vouw je nu je droogpak het beste op en hoe onderhoud je je ritsen? Eddy van Vliet van Scuba Support geeft praktische tips voor je droogpak.
Tekst: Judith Rietveld  Foto's: René Lipmann

1 Droogpakrits waxen
Voor je droogpakrits is het beste om ritswax speciaal voor droogpakken uit te kiezen. Veel mensen gebruiken speciale ritsvloeistof maar hier blijft zand en zoutkristal aan kleven. Wax is een betere optie en bovendien glijdt dit beter. Waxen met een waxinelichtje is uit den boze; dit verweekt het rubber dat om de rits zit en wordt zachter. Maak eerst de tandjes van de rits vuilvrij met een tandenborstel. Sluit de rits en wrijf de wax langs en tussen de tandjes. Doe dit om de 5 duiken.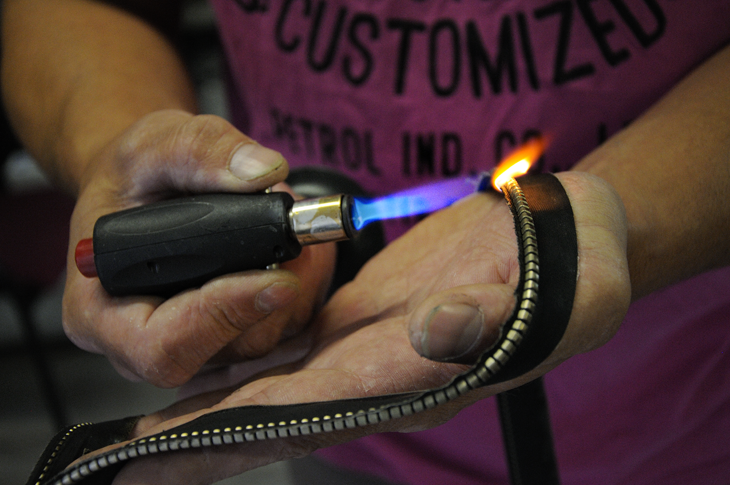 2 Voorkom rafels
Laat je rits nooit knikken. Een rits dicht af op de tandjes aan de achterkant die in elkaar haken en de rubberflapjes die in elkaar drukken. Wat je nog wel eens ziet zijn rafels. Als je die hebt, kun je deze het beste zoveel mogelijk wegknippen. Als je dat niet doet, gaat je rits heel hard achteruit. Met een aansteker of brandertje schroei je de haartjes weg en voorkom je verdere rafels. Let wel op dat je de rubberflapjes niet wegbrandt!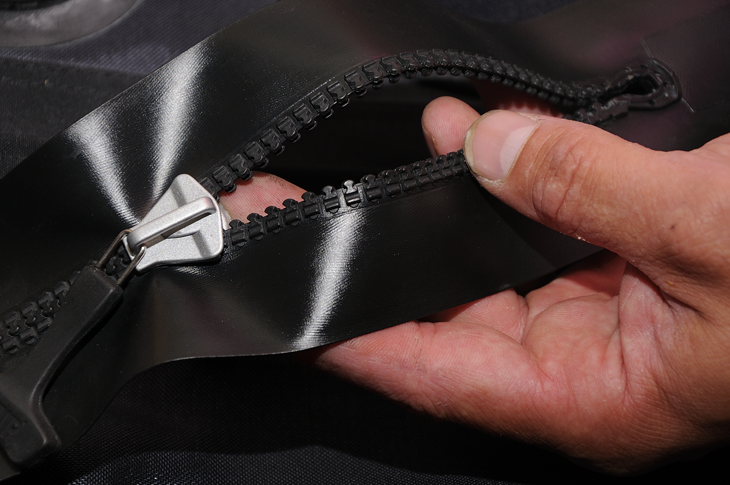 3 Schoonmaken T-Zip
Voor de kunststofrits is het belangrijkste gedeelte het einde van de rits. Dit stukje wil nog wel eens voor lekkages zorgen. De T-Zip ritst heel licht maar bij het dichtmaken voel je wel eens weerstand aan het eind. Veel mensen denken dan dat de rits gesloten is, maar dat is dus niet zo. Let hier goed op om lekkages te voorkomen! Daarom is het heel belangrijk dit gedeelte goed schoon te houden met een tandenborstel. Smeer het daarna in met T-Zip vet.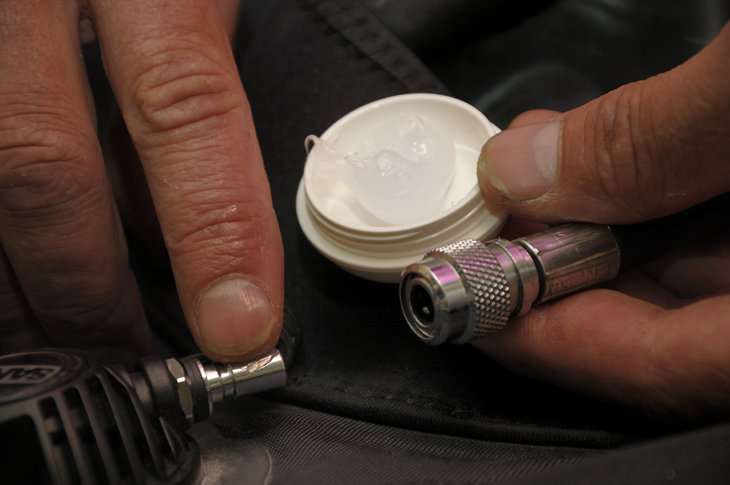 4 Inflator smeren
Aan de binnenkant van de droogpakslang zit een O-ring die de inflatornippel afdicht. Deze O-ring smeren is heel lastig. Het beste is om een beetje siliconenvet op de nippel van de inflator te smeren. Bevestig de droogpakslang en draai deze. Zo is de O-ring ingesmeerd en voorkom je lekkages en slijtage.  Dit hoeft niet iedere duikdag, maar wel eens in de zoveel tijd, zeker als je voelt dat het bevestigen zwaar gaat.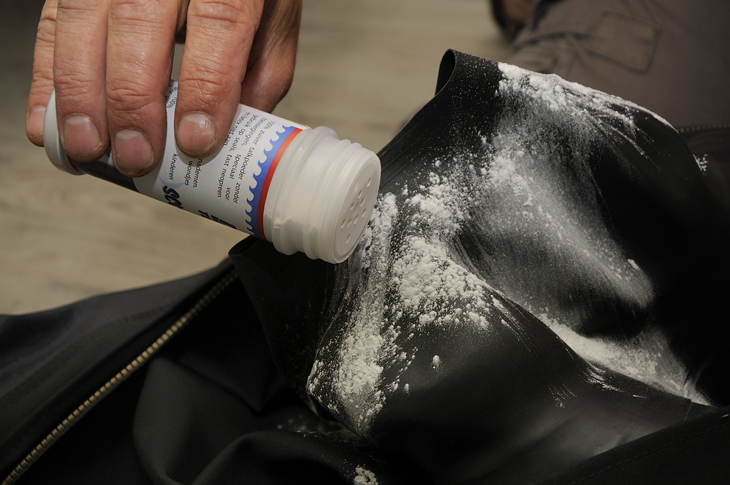 5 Talken
Talk de latex of neopreen seals van je pak voor én na de duik. Doe dit zowel aan de buiten- als binnenkant. Zorg wel dat je pak droog is! Met de hand verspreid je het poeder over de seal. Zo blijft het geconserveerd en kom je er makkelijker in. Gebruik ongeparfurmeerde talk, want in geparfurmeerde zoals Zwitsal zitten stofjes die de seals verweken. Voor latex kun je ook Sealsaver gebruiken, voor neopreen niet.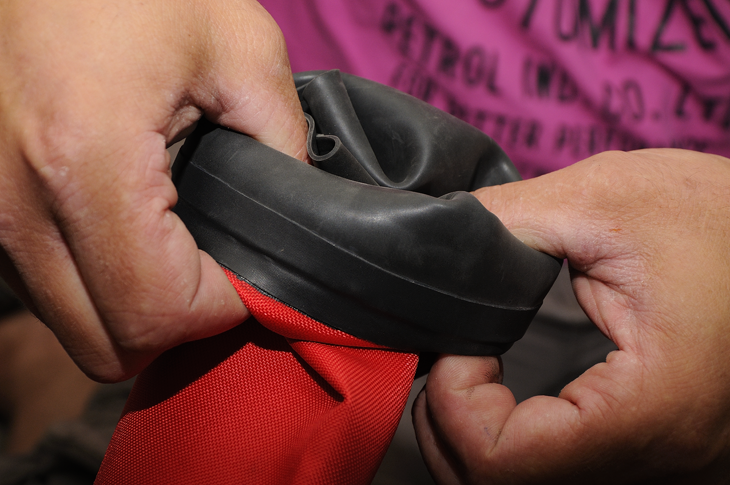 6 Seal naar binnen
Wanneer je je droogpak opvouwt, wil je alle fragiele delen zoals seals en ritsen beschermen. Je seals van de mouwen bescherm je door ze naar binnen te slaan. Het is hierbij belangrijk dat je de vouw op de mouw laat en niet op de seal. Dan zijn ze goed beschermd. Dit geldt hetzelfde voor je nekseal, die je ook eenvoudig naar binnen kunt slaan.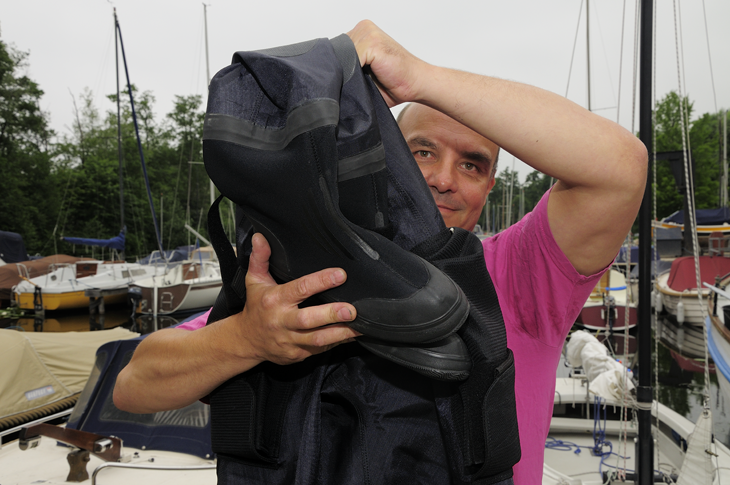 7 Opvouwen
Zorg dat je pak droog is. Bij een frontrits rol je het pak altijd naar de rug toe; eerst de voeten en dan de rest. Daarmee zorg je ervoor dat de rits de grootste radius heeft zodat hij niet gaat knikken. Een metalen rits is iets kwetsbaarder dan de nieuwe uiterst flexibele kunststofrits. Als deze een keer geknikt zijn dan lekken ze, maar als je ze dan een keer open en dicht ritst, zijn ze weer waterdicht. Is een metalen rits eenmaal geknikt dan lekt hij voor het leven.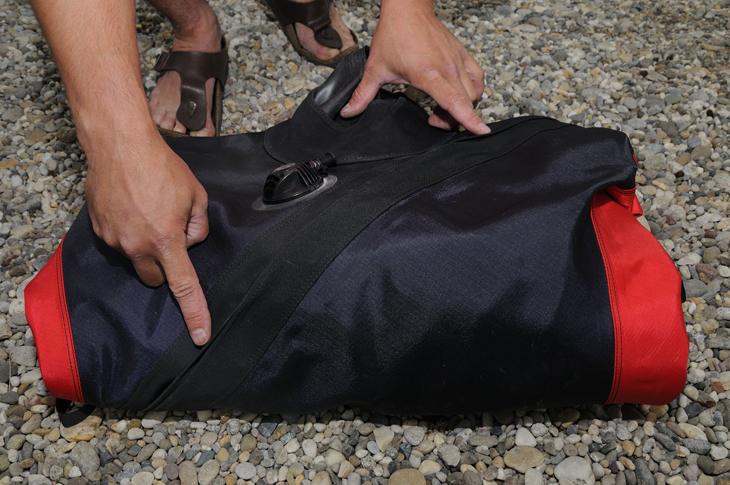 8 Grootste radius
Je ziet hier duidelijk door je pak op deze manier op te rollen, dat de radius van de frontrits het grootst blijft. Bij een T-Zip rits is de radius veel groter, waardoor je hem – eventueel – kleiner kunt opvouwen. Berg je droogpak droog en op kamertemperatuur op. Een koude schuur komt het pak zeker niet ten goede, zonlicht ook niet.